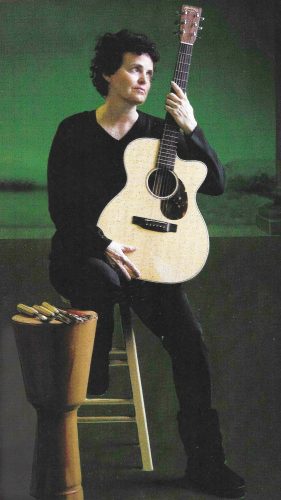 "Ask Jan Marvel what she does and she's never at a loss for words. Professionally, she operates Marvel Signs & Designs. Many of her award-winning signs feature her own graphic designs and hand carvings. She's an interior designer who does a little chainsaw sculpting & rustic furniture on the side. She's an avid outdoors woman, enjoying everything from rock climbing to horseback riding, biking to kayaking. She's an award winning singer-songwriter, drummer and guitarist. She has her own recording studio and record label
Atta Girl Records
, producing acclaimed music: her own first album
Too Close to Reality
, a compilation benefit album
The Tsunami Relief Project
, which features a dozen songs by prominent figures on the New England folk music scene…and a second benefit album
Green Measures
the focus being on the environment and green causes.
And all she has accomplished she pretty much just figured out as she went. She says the catalyst for her initiative and her wide range of interests was her childhood, which she describes as 'humble and difficult'…
She's not sure how all of her interests connect, but she sees everything she does as part of a bigger picture, so she tries to use all her assets, personal and professional, to help others out along the way. 'Each day is a blessing. It really is about being grateful and appreciative, being the best person you can be on the inside – the rest is just the cherry on top.'" — Rick Broussard, (photo Susan Laughlin) "Renaissance Women" – New Hampshire Magazine
"Jan has a rich creamy voice that is like dark chocolate. She is immediately likeable. Her songs shift from image-oriented stories to poetic metaphors that paint in broader emotional brushstrokes" — Songwriter's Monthly
"From the east to west coast, these artists have gathered their spirits, hearts, inspiration and music in a collaborative effort to raise money for the tsunami survivors. Seventeen shining tracks of pop, folk, world and rock weave in and out for a complete, integrated package of quality music.
Atta Girl Records
has pledged to send 100% of the profits to this long-term rehabilitation effort. Do your part in a simple way, lend a helping hand and contribute to the music you love." —
CD Baby
, review of the album
Tsunami Relief Project: Artists for the Environment
of which Jan Marvel's song Morning Comes is included.
"Singer-songwriter Jan Marvel is accompanied by a host of impressive local musicians on her debut CD
Too Close to Reality
. Marvel's pensive songwriting style is both emotional and contemplative. It has a relaxed, laid back quality that is soothing to the soul. Produced by musician extraordinaire
Linda Chase
, Marvel acquires the talents of Chase, drummer
Dave Currier
, guitarists
Bobby Keyes
,
Greg Paul
,
Steve Olsen
and bassist
Sean Hurley
to build this respectable effort worthy of praise and merit." —
Metronome Magazine
"Adult contemporary fare that soars on the strength of Marvel's heartfelt songs and rich, expressive vocals. Backed by a super-tight band (lead guitarist Greg Paul is superb), Marvel's Too Close to Reality presses all the right slick pop buttons." — Northeast Performer
"New Hampshire songwriter Jan Marvel says that the songs on Too Close to Reality were "written for the heart. They are real stories of real people…" and she hopes they will have special meaning for others. Her stories are compelling… Freight Train has a Steely Dan feel and funky groove. Altar Boys is a dark and dreamy gem that features a fantastic arrangement with melotron-like keyboards and a great blend of acoustic and electric guitars. The psychedelic music recalls the Beatles or Pink Floyd and perfectly supports Marvel's disturbing lyrics: "It's the ultimate price you paid for trying to have faith. You're life has been derailed by the ultimate betrayal." There are great sounding songs on Too Close to Reality, like the album opener Love Again which has a bluesy feel and some nice guitar work from Greg Paul. Overall…interesting musical touches and strong musical support." — Music Revue Magazine
"She wants to write songs 'that mean something'… Marvel, like female performers such as Natalie Merchant, has sung about troubling social issues, but she also presents light and upbeat numbers." — Laura Pope, NH Union Leader
"I found this to be an incredibly moving musical experience. The artist puts words to the emotions that we all deal with. If you are tired of songs that sound so good and say so little, this is what you are looking for. Shear musical talent, earthy vocals and raw lyrics fuse to form this revolutionary album. You will wonder, 'Where have these songs been all my life?'" — C. Park, Amazon.com reviewer
"This is one of the best and most touching, spoken from and to the heart, albums I have heard in recent years. I stumbled across it while surfing the internet. After listening to a few sound clips at the record company site,
Atta Girl Records
, I just
had
to order it. I've played it over and over since receiving it in the post. My favourite tracks are
Kaleidoscope
and
Dancin' in Denial
." —
Kathryn Livingston, UK